Honesberie Shooting School offers expert tuition for rifle shooting, over a range of calibres and shooting positions. We have two professional instructors who are extremely knowledgeable about the sport and the rifles.
Our facilities offer customers the opportunity to test, zero and practice shoot their rifles, as well as learn the essentials of the sport; safety, calibre suitability, stalking techniques, rifle maintenance, understanding of ballistics, use of open and telescopic sights, etc.
The rifle range offers targets at 50m, 100m and 200m, with shooters positioned under cover.
1 hour lesson: £85 + ammunition
1 hour lesson for 2 people: £105 + ammunition
1 hour lesson for 3 people: £120 + ammunition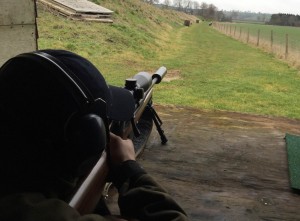 Rifle Course – three one hour lessons
This course is designed to take novices through the basics of safe rifle handling.
No prior rifle shooting experience is necessary, with all equipment, apart from ammunition, included.
Rifle Course (3 hours): £223 + ammunition
Rifle Course (3 hours – 2 people): £275 + ammunition
Rifle Course (3 hours – 3 people): £315 + ammunition