Honesberie are proud to be the Main Agent in the UK for Rizzini guns.

As a Rizzini Ambassador, we are the main stockist of Rizzini guns here in the UK, for both competition and game guns.
As part of our service, we will ensure we find the right gun for you, and can work with the Rizzini factory in Italy to provide you with a bespoke gun, designed just for you.
We have an extensive range of Rizzini guns here in our gun room at Honesberie, including our club guns, and can be viewed as part of our gun fitting service.
Check out our current stock for sale here, or call us to make an appointment to visit our gun room and talk to one of our experts, on 01327 262922.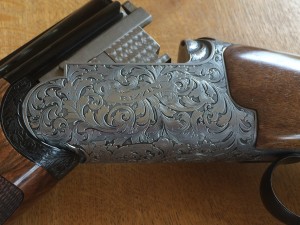 About Rizzini
Battista Rizzini of Brescia Italy founded the Rizzini Company in 1966, and his children are actively involved in the family-run business today. Since the company's foundation, its products have acquired worldwide recognition and appreciation through the endless quest for the best quality of products and materials. This is achieved through continuous investment in the best technology integrated into traditional workmanship.
Rizzini produces shotguns intended to match the most demanding needs of both game and competition shooters, with a range of both over-and-under, and side-by-side shotguns.
Inside their factory near Milan, you will find state of the art CNC machines, a wood department where the beautiful stocks are made, a product development department with innovative engineers and Mr. Rizzini's very own think tank corner where you can find him working on the next project.
When you buy Rizzini you are investing in some of the best craftsmanship in the world. The "original" Rizzini brand is registered worldwide and certifies the highest quality. Rizzini is 100% made in Italy.